Restaurants Adapt to Quarantine
After Governer Polis ordered the closure of dine-in services at restaurants and bars, many establishments opened takeout services.
Rosie's Diner, 411 Hwy 104, is a popular restaurant located in Monument. A.B. Tellez first opened the diner in Aurora, CO in 2000 when working for the corporate company. Tellez was moved by the company to Monument to open the second restaurant, which he then purchased in 2006. He has owned Rosie's Diner ever since.
Rosie's closed its dine-in services on March 17th in accordance with Governor Polis's orders for dine-restaurants to no longer allow in-house dining. "At this time we were not really prepared to do a QSR (quick-service restaurant) business model with our concept. After taking a few days to revamp our operation, we then launched our Take Out on March 27th and have been doing Take Out since," said Tellez.
According to Tellez, the hardest part of this crisis is the effect it is having on the diner's staff. Tellez said, "Not being able to provide a job or income for them has me worrying about them all the time. We have tried to help out some employees who were in financial distress and most of our employees filed for unemployment."
Tellez is hoping Governor Polis will re-open in-house dining on May 1 so that the staff can return to working. "Right now my number one priority is getting my staff of 28 people employed again and helping them get back to a normal life," said Tellez.
A.B. Tellez is striving to remain positive and look on the bright side of the situation amidst the crisis. "A lot of us joke and laugh about things during the day because it makes working right now so much better!" said Tellez. The staff at Rosie's Diner is close and are supporting each other. Tellez and his wife work together at the diner daily.
"We are so very grateful for our community's support during all this," said Tellez. According to Tellez, many members of the community have expressed concern about Rosie's business and employees, and some have offered assistance or donations. It is wonderful that everyone wishes to help local businesses through this difficult time.
Rosie's Diner is open every day from 11 am to 7 pm and they are serving their lunch and dinner menu along with shakes and desserts. Go to their website to find their Takeout menu and phone number to place an order. Rosie's Diner also has weekly specials, which can be found on their website.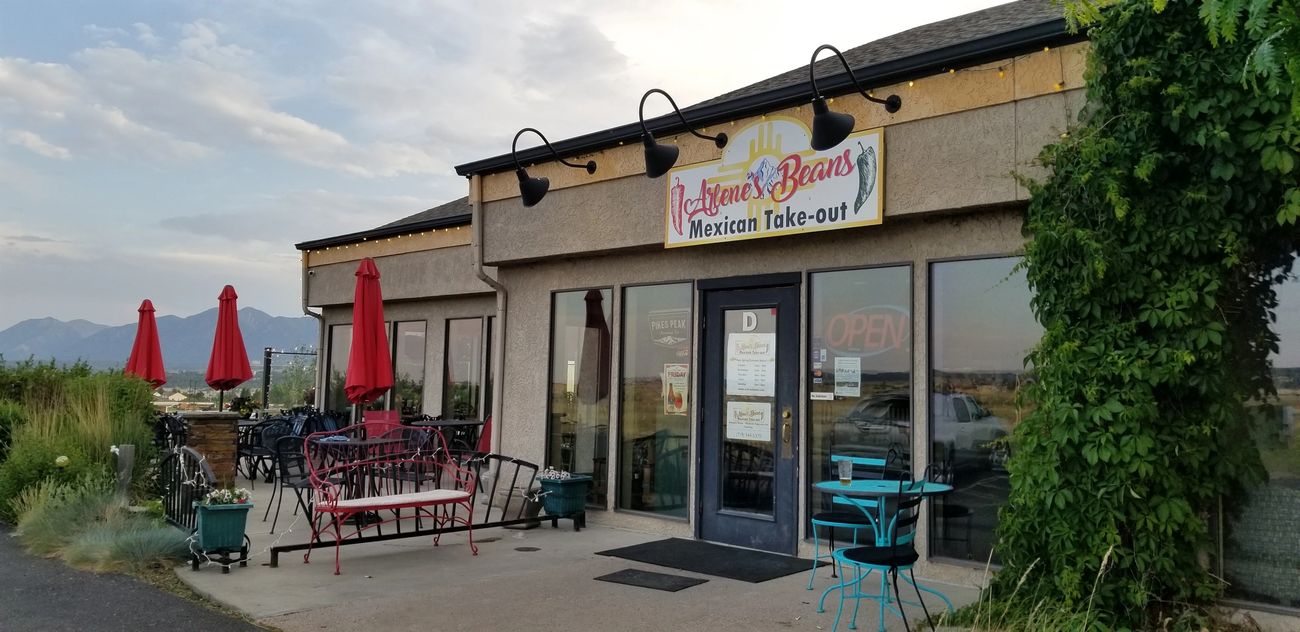 Arlene's Beans, 366 Second Street Unit D, Monument, CO, is open for takeout only. The restaurant switched to a takeout service only on March 26th, with Governor Polis's order going into effect on March 27th.
Arlene Padilla and her family began serving food to their neighborhood in 2016 when they decided to sell burritos and jars of homemade salsa during the annual community garage sale. "I felt comfortable as I knew many of my neighbors and decided to make it a fun party with those I knew and enjoyed margaritas on our front yard that hot, beautiful summer weekend," said Padilla. Shortly after that, Padilla leased the old Palmer Lake gas station in November of 2016. In want of more cooking space, Padilla and her family opened the current location in downtown Monument in January of 2018.
The staff of Arlene's Beans is exclusively family-run. "Right now we are a true "family" run restaurant. My husband, three of our daughters, my cousin, in addition to one long time family friend, and I all work at the restaurant," said Padilla. During this time, Padilla's family has been staying positive and everyone is healthy.
Padilla said, "We did not have to adjust a thing and [we] hit the ground running when everything regarding the pandemic started." Arlene's Beans already had a takeout service before the executive order for dine-in restaurants to no longer allow in-house dining, so the transition to purely takeout was not an issue.
Arlene's Beans has the same menu for takeout as they did for in-house dining, with a couple of additions. Go to their website to order online. Orders can be placed beginning at 9:30 am, and they are open for takeout at 11 am Tuesday through Saturday.